A New Printing of 1916 Suburban Homes.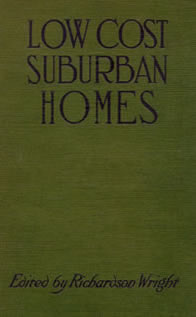 LOW COST
SUBURBAN
HOMES

A BOOK OF SUGGESTIONS FOR THE MAN WITH THE MODERATE PURSE
EDITED BY
RICHARDSON WRIGHT
Contents: THE SERVICE OF THE ARCHITECT, by Howard Hammitt; HOW TO GO ABOUT PLANNING YOUR HOME, by C.E. Schermerhorn; THE COST OF DIFFERENT KINDS OF BUILDING, by George Hunt Ingraham; THE PROMISE OF AMERICAN HOUSE BUILDING, by Ralph Adams Cram; AN ALBUM OF LOW COST SUBURBAN HOMES; ADDRESSES OF CONTRIBUTING ARCHITECTS.
House Illustrations, partial list:
Colonial; Stucco with Lattice, Colonial with Clapboard; Concrete with Decorative Ornament; Half-timbered Cottage adaptation; English style; Stucco Farmhouse with Sweeping Roof; "Large-Small" House; Brick, Stucco and Half-timber; Stucco; Hollow Tile and Stucco; Wood Frame with Stucco; Brick; English Half-timbered Cottage type; Pennsylvania Colonial Native Stone; Parallel line architecture; Colonial; Colonial; Parallel lines; Pennsylvania Stone Work; California Chalet; House with a Square Plan in Hartford, Conn. (Hollow Tile Stucco); Dutch Colonial Suburban; Square Colonial Adaptation of Simple Lines; Colonial by Suggestion for an Open, Level, Suburban Site; Views of a Commodious Bungalow; A Small House with A Patio on Staten Island, New York; A Suburban House in Rochester, New York; Picturesque Cottage type; An Unusual but Simple Suburban type; A Colonial Design of Excellent Proportions; Cottage type of Brick and Stucco; A Dutch Colonial House near New York; A Dutch Colonial House in North Carolina; A Stucco House of Small Proportions; A Half-timbered Cottage type; An Attractive Seashore Cottage; English Country house type of Stucco and Red Shingles; A Shingle House of Moderate Cost; A Compact Little Dutch Colonial House; A Hollow Tile and Stucco House; A House to Suit the Average Family; A Successful Seashore Cottage; A Dutch Farmhouse; Pennsylvania Colonial Farmhouse in Philadelphia Neighborhood; Stucco and Stained Shingles; House for a Small Family; English Cottage in New Jersey; Small Brick House of Individuality; Clapboard House of Dutch Colonial lines; New England Suburban Residence; English Country House in New Haven, Conn.; Suburban Residence of the Middle West; House of Spanish Precedents; Stone Walls, Whitewash and Shingle; Seashore House with Simple Plans; English Cottage lines in New England Home; Stucco and Thatch in a Southern Suburban Home; Small Roomy House for the Suburbs, and more.
Architects represented:
Lewis Colt Albro, Norman Baird Baker, Bates & How, Dwight J. Baum, Caretto & Forster, Ralph Adams Cram, Kenneth W. Dalzell, Davis, McGrath & Keissling, Druckenmiller, Stackhouse & Williams, Duhring, Okie & Ziegler, A. Raymond Ellis, Aymar Embury II, Albert Faulkner, Howard Hammit, Hanker & Cairns, Horace T. Hatton, Hunt, Myron & Elmer Grey, George Hunt Ingraham, Charles Barton Keen, Kelley & Graves, W. Duncan Lee, J. Lovell Little, Jr., Martin & Kirkpatrick, Claude Miller, Murphy & Dana, Putnam & Cox, James Purdon, Watson K. Phillips, C.E. Schermerhorn, Frank Lloyd Wright.
Well illustrated, over 54 house plans (144 floor plans).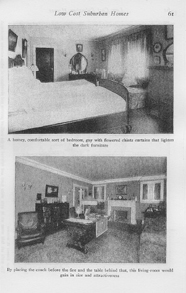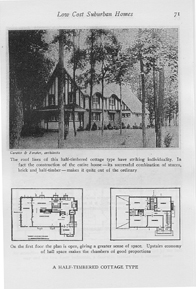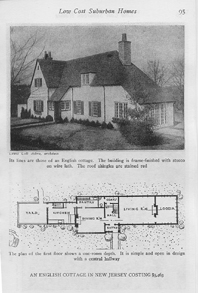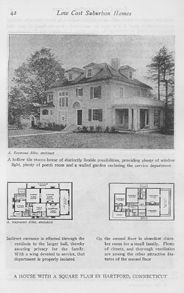 Originally published in 1916 in New York by Robert M. McBride & Company.
PDF eBook, by Merrymeeting Archives, LLC, Reprint of the 1920 Edition, 132 e-pages
Low Cost Suburban Homes Feedback:
"Just what I anticipated. Fun light reading."